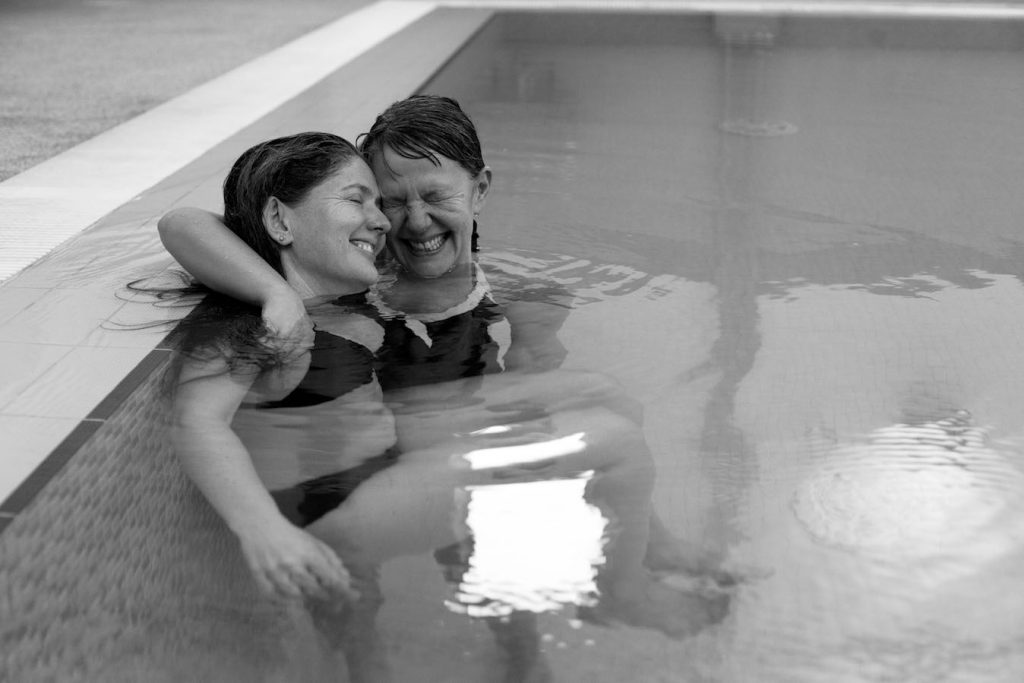 Whilst studying at art college during the early 1990's I began to experience a strong vision. I saw myself standing in water, arms stretching forward and cradling in my hands someone floating before me. The vision came frequently to me and I knew within my heart this was my future. At the time, I spent much time playing in the water; swimming, free-diving, practising yoga, chanting and acrobatics but knew of no training I could do. It took almost seven years to discover this.
My springboard towards my stepping into this vision was training to become a Shaw Method teacher; namely Alexander Technique principles applied to swimming. This lead me to an Ai Chi training as well as the beginnings of Watsu and over the course of the next few years drew all my learnings from yoga, dance and other practices into the water. Overtime my fascination with how our perception of self and surroundings shifts whilst submerged grew and Waterbody started to from. Moving away from a floaty and ethereal experience in the water, I was curious about what emerges within our consciousness the more grounded and embodied we are in the water. I saw that this wonderful element has the capacity not only to mirror and reflect what lies within us but also gently awaken that which might be asleep. And beneath the surface of my passion was a deep inquisitiveness to understand why we as a species are called to the water so greatly. My interest leant, less in unearthing quite possibly the reasoning, more watching and listening to the movements within us, the longings and desires, that brings us time and time again to the commune here.
As well a combining my passion for land-based practices exploring embodiment into the development of Waterbody, over the course of my practice and teaching, I was fortunate to also work creatively, collaborating together with a rich mix of artists, choreographers and photographers. Through both these spheres exploring our relationship with water, my work received exposure in the national press including The Guardian and Sunday Times as well on Women's Hour and with work exhibited at The Photographer's Gallery.
In 2009 my focus shifted on having a family and I took my learnings from the water into becoming a mother. The greatest gift the water taught me was the wonder of listening and this was my primary motivation as a parent; to listen and learn my children as they grow.
Now, with both my son and daughter both at school, I am returning to the water once more. And, maybe as one of life's poems, I now bring what I have learned from parenting into the water. There are many layers to this but to surmise in a nutshell it's heart inquiry. To listen into the landscape of the heart and welcome all. And the water is a wonderfully responsive environment to do this in.
In my early days as an art student, in the teachings of the time, I was taught to step back from time to time to view from a distance what I was drawing. There has been invaluable wisdom in this teaching which I have taken, time and again, into my life. Giving space to my Waterbody practice over the last decade has allowed time for it to quietly grow and deepen. It is still evolving and I love, as I did with my vision of 25 years ago, of holding it in the unknown and seeing how it may take form. I already have an inkling of the seeds of its new potential. I would love you to join me in this discovery.